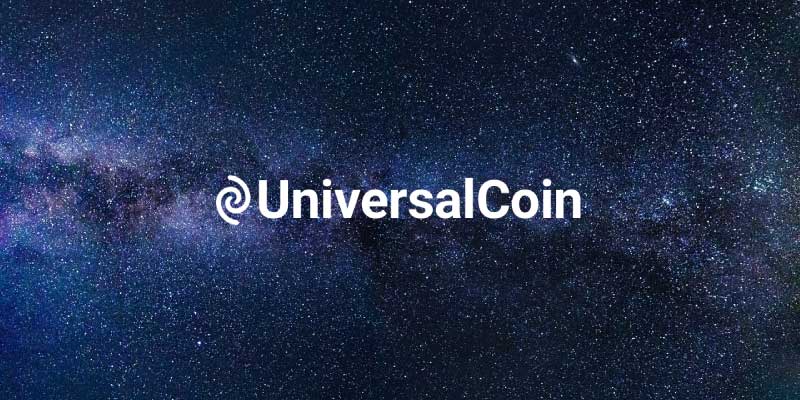 What is UniversalCoin?
First of all, UniversalCoin is a special project. Because it's from a childhood friend, who's a passionate about cryptos and blockchain possibilities, just like myself. But I've discovered it in my Facebook news feed only a couple days ago, when he said he's launching the very first free cryptocurrency in the world. So I decided to help and share their experiment that is risk and money free!
So what's different about UniversalCoin? First it's an experiment that the team designed to enhance their understanding of the nature of wealth and its distribution. And to determine if wealth can be generated on a global scale, through popular consensus on the value of cryptocurrency tokens. Basically, they want to know the answer to that question: If we all say that a token is worth 1 USD, then is it really worth 1 USD? And I think it's an interesting experiment, which could change people's perception about digital currencies, even fiat!
As a result, UniversalCoin is giving away most of their tokens for free, to allow a wide, even and fair distribution – as far as it's possible. They've started with their free weekly distributions. And they'll organize three airdrops to all UniversalCoin holders. Take a look at their white paper for further details.
UNV tokens by UniversalCoin
UniversalCoin, ticker UNV, is a digital currency on the ethereum blockchain which is ERC-20 compliant. The total supply is 40,000,000,000 (40 billion) UNV tokens. And the majority of the supply (86%) will be be distributed to the public, completely free of charge. Anybody in the world can receive UNV tokens. Indeed, you just need to have an internet access to claim your share.
The team will use the remaining 14% to raise funds to finance the operation of the free distribution.
How to get the free UNV tokens?
Free weekly distributions
First of all, you need to participate to UniversalCoin free weekly distributions. They've started on April 2 and are run every Monday for 40 weeks. To join, you need to visit this page during the 24 hour claim window. This window is active from UTC 00:00 until UTC 00:00 the following day. First, you need to click on Claim my UniversalCoin. And wait for 1 minute. Then solve the captcha. And fill in a valid email address and click on Get Link. And you'll get an email with a link to Get Universal, which is valid for 2 hours. Just click on it and fill in your ethereum wallet address on the page. Finally click on Submit.
The claim process should take no longer than 10 minutes to complete. Of course, you can't apply several time with the same email and wallet address. And at the end of the claim window, every participant that week will be sent an equal share of that week's UniversalCoin to their nominated wallet address.
The distribution in itself could take up to 36 hours after the second claim window closes. And you'll get a confirmation email when you've received the tokens.
Now, this is a social experiment. So you need to share these events with as many people as possible. And don't forget to claim your free UNV tokens every Monday!
Airdrops
The team will airdrop 2,400,000,000 UNV tokens to UniversalCoin holders after the end of the free weekly distributions. And each UNV token holder will receive a proportionate amount to the amount of UniversalCoin held in their address. I don't have much details yet. But you can be sure I'll let you know about these in the right time.
DYOR. NEVER share your private keys! And NEVER use an exchange wallet address! Instead, we recommend using
Trezor wallet
.
Legal Disclaimer
: This website does not offer investment advice. The author is an amateur investor and the information found here is for informational, entertainment, or educational purposes. As a result, it should not be construed as personal investment advice. While the information provided is considered accurate, it may include errors or inaccuracies. This website and the author can't be held responsible for any action you take as a result of what you have read here.
Learn more
.
DON'T MISS A SINGLE AIRDROP

UniversalCoin Airdrop
UniversalCoin is a unique project designed to reach as many people as possible. Therefore, the distribution of UniversalCoin is completely free. And anyone with internet access can participate. Be part of the experiment and claim your UNV tokens now!
My opinion on UniversalCoin Airdrop
We've reviewed hundreds of cryptocurrency airdrops since this airdrop alert site is live. And here's our take on this crypto airdrop. With a score below 5, you may never receive your tokens. But if it's above 8, you'll definitely get your free cryptocoins!