HOT LIST
Ripple Cash (RPCH)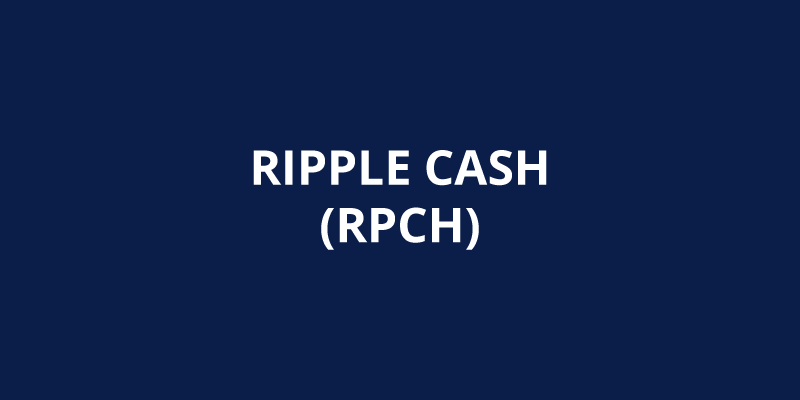 What is Ripple Cash?
Ripple Cash is a global, decentralized crypto-currency and payment system built on the ethereum network. And the project designed the ecosystem with the sole intention of creating a frontline cryptocurrency. Therefore, people will be able to use it in the real world for day-to-day transactions. Ripple Cash is designed to be the next generation blockchain-based payment system: Real-time, instant, secure and scalable.
The project's team believes that industry partnerships are the key to success. And that it's the only way for them to be accepted as a usable payment system. Therefore, they plan to aggressively work on that front.
While many other cryptos remain exclusively tradable, this currency's goal is be used and consumed by the people in reality. And this makes it even a stronger and more lucrative financial asset.
For more details, take a look at their white paper and road map.
RPCH tokens by Ripple Cash
Ripple Cash tokens, or RPCH tokens are built on the ERC-20 token standard. And there's a total supply of 100,000,000,000 RPCH tokens.
Why's the total supply so high? Because they want it that way. Indeed, they're planning to be the most adopted blockchain-based payment solution. And you need a certain amount of tokens to be in each wallet of the world! Also, they highlight the fact that they'll work in parallel with fiat currencies to cater to the world's population.
Finally, Ripple Cash is in talks with all the major exchanges. So the tokens should be open for trading soon. And they're also planning a sale.
How to get free RPCH tokens ?
Ripple Cash is conducting an extremely generous airdrop campaign. And they're giving away 10,000 free RPCH tokens to all the valid participants.
So how can you get your free Ripple Cash tokens? First of all, you need to register here. And fill in their Google form. Also, you need to:
Subscribe on their website, by filling up their contact form
Follow their Twitter account
Retweet their pinned tweet (the one pinned on the top of their account, see picture below)
Join their Telegram Channel
That's it, you're now eligible to get free RPCH tokens!
If you want to get more RPCH tokens, you can refer your friends and family. And earn 100 tokens per referral. But I haven't found out how they track these…
DYOR. NEVER share your private keys! And NEVER use an exchange wallet address! Instead, we recommend using
Trezor wallet
.
Legal Disclaimer
: This website does not offer investment advice. The author is an amateur investor and the information found here is for informational, entertainment, or educational purposes. As a result, it should not be construed as personal investment advice. While the information provided is considered accurate, it may include errors or inaccuracies. This website and the author can't be held responsible for any action you take as a result of what you have read here.
Learn more
.
DON'T MISS A SINGLE AIRDROP

Ripple Cash Airdrop
Ripple Cash is aiming to become a global cryptocurrency. But unlike the existing ones, they want people to actually use it on a daily basis. And not for trading. An airdrop campaign is now live. Claim your tokens now!
My opinion on Ripple Cash Airdrop
We've reviewed hundreds of cryptocurrency airdrops since this airdrop alert site is live. And here's our take on this crypto airdrop. With a score below 5, you may never receive your tokens. But if it's above 8, you'll definitely get your free cryptocoins!