HOT LIST
Koi Metaverse (KOI)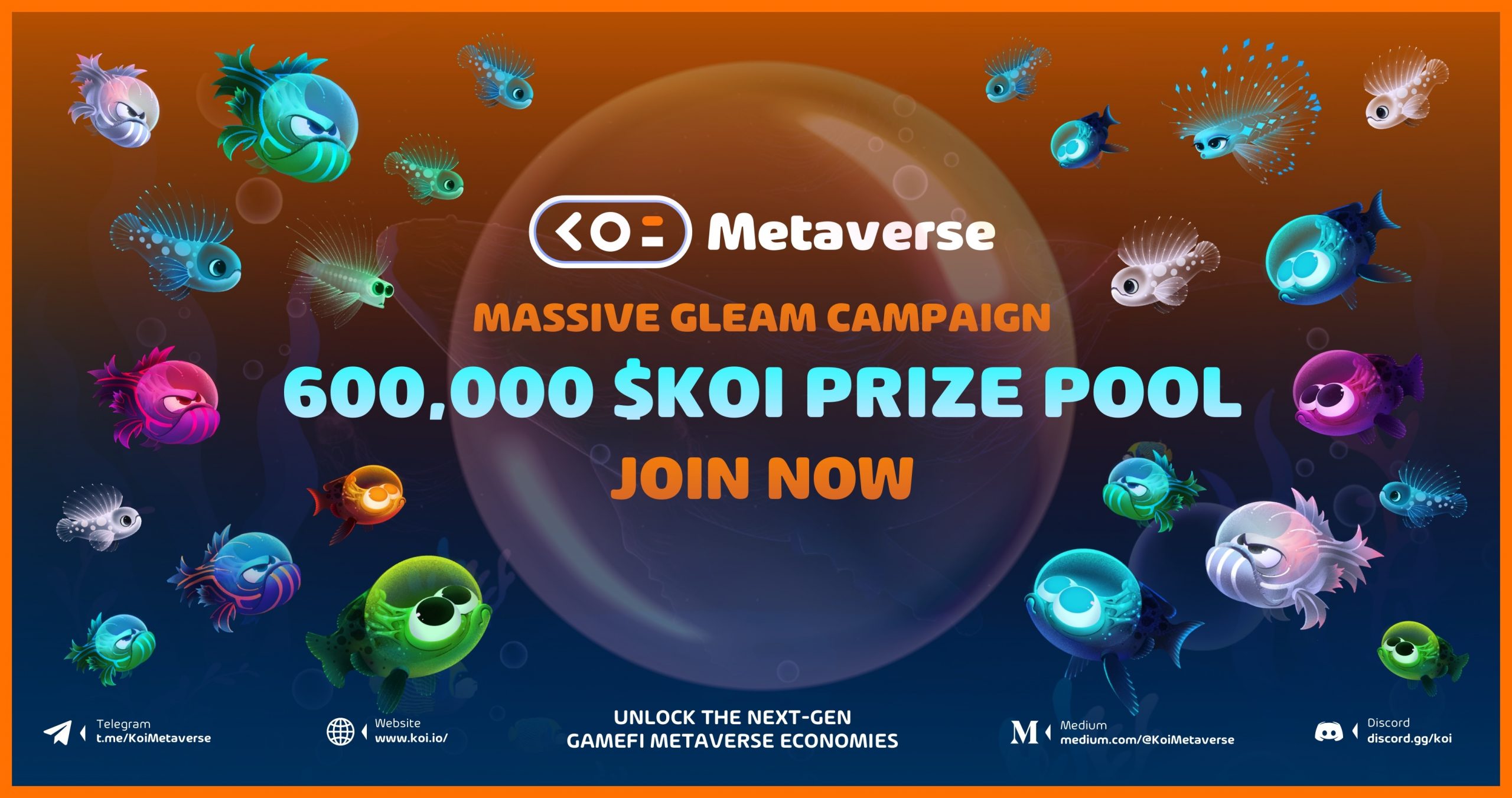 Here's a new crypto airdrop submitted by Anetta. Do not miss on the KOI free tokens!
What is Koi Metaverse?
Koi Labs aims to Unlock the Next-Gen GameFi Metaverse Economies by Building the Digital Collectibles Platform for Virtual GameFi NFTs on multichains.
Koi Metaverse (Koiverse) initially is a Fish Farming blockchain game that combines token economy and NFT assets. It consists of a series of smart contracts and a variety of NFT assets in the form of virtual fish. All of the in-game assets belong to its players.
Koi Network is a next-generation infrastructure for issuing, trading, and liquifying GameFi NFTs from different chains like Ethereum, BSC, Polkadot and so on. Koi is aimed at building a Metaverse dedicated to GameFi NFT assets.
The number of accumulated registered users in the previous games is over 50 million globally. Koi team is experts in innovative gaming mechanisms, side chain implementation, tokenization economics and decentralized wallet integration.
Key Backers: AU21 Capital, Titans Ventures, ZBS Capital, X21 Digital, Maven Capital, Encrypt Club, Kyros Ventures, Exnet Capital, etc.
Further details on the official website.
KOI Token
The KOI token is the ERC-20 utility token of the platform. The use cases of the KOI token are:
Governance: KOI token holders will be able to stake their tokens and participate in governance voting.
Staking: Players will be able to stake their KOI tokens into the Community Treasury to participate in the governance of the Koi Network and share the generated revenue.
Payment: Players will be able to use the KOI token to play games and conduct payments for using the Koi GameFi Metaverse, including the marketplace, auction, DeFi hubs like lending services and index products, and the NFT asset renting services.
Its ticker is $KOI, and it's on the Binance Smart Chain blockchain. The total supply is 1 billion (1,000,000,000). While it's not tradable yet, the IDO will be announced soon.
How to participate in the KOI airdrop?
MASSIVE GIVEAWAY OF 600,000 KOI TOKENS – OCEAN EDITION
We hope you are sitting down because we have some big news to share✨
READY? Ok here we go…
?To commemorate our upcoming IDO and Koi NFTs Genesis Collection Offering — Phase 2, we will be giving away 600,000 KOI TOKENS to several lucky members of the community. That's right, you read that correctly!!
Since we already know that life under the sea is a lot of fun, we could not resist the temptation to make it even more exciting!! #FishArmyStrong
We will draw the winners by lottery once we reach 50k followers on Twitter; therefore, share our giveaway with everyone you know!!
The sooner we reach this goal, the sooner the winners will be selected. After all, who wouldn't want to enjoy our exciting prize pool reward as soon as possible?
?THIS IS AN OPPORTUNITY NOT TO BE MISSED!
?Rewards:
?200K KOI tokens ($9K) – 1 winner
?200K KOI tokens ($9k) – 5 winners (40K $KOI each)
?200K KOI tokens ($9k) – 50 winners (4K $KOI each)
?About the rewards:
Tokens will be distributed after the end of the giveaway.
Private sale vesting applies.
The private sale price of 1 $KOI token is $0.045
?Details and rules:
?The giveaway will run until we reach 50k followers on Twitter.
?Members of the KOI Metaverse team reserve the final decision regarding the interpretation of the contest rules, eliminating participants at their discretion, and the final judgment of all entries.
?KOI Metaverse reserves the right to close the giveaway at any time.
?The participants are not required to complete all tasks in order to win a prize, but each additional entry increases their chances.
Good luck!
Source: Twitter
DYOR. NEVER share your private keys! And NEVER use an exchange wallet address! Instead, we recommend using
Trezor wallet
.
Legal Disclaimer
: This website does not offer investment advice. The author is an amateur investor and the information found here is for informational, entertainment, or educational purposes. As a result, it should not be construed as personal investment advice. While the information provided is considered accurate, it may include errors or inaccuracies. This website and the author can't be held responsible for any action you take as a result of what you have read here.
Learn more
.
DON'T MISS A SINGLE AIRDROP

Our opinion on Koi Metaverse Airdrop
We've reviewed hundreds of cryptocurrency airdrops since this airdrop alert site is live. And here's our take on this crypto airdrop. With a score below 5, you may never receive your tokens. But if it's above 8, you'll definitely get your free cryptocoins!