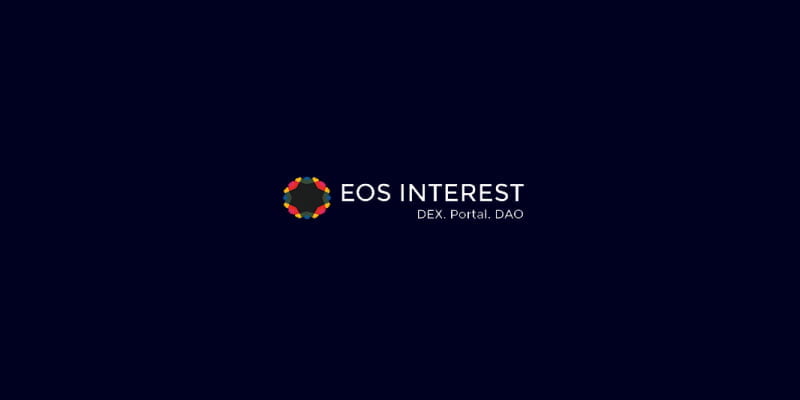 What is EOSInterest?
I have to thank Jonathan, a member of their team that contacted me a while back, for this new crypto airdrop. So what's EOSInterest? It's a DAC/DAO governed, dividend sharing, multi-chain decentralized exchange (DEX). And it integrates TOR enabled multi-chain DEX with an AI-guided trade engine.
The community governance of the platform is enabled through Decentralized Autonomous Companies (DAC) and Democratic Autonomous Organization s (DAO) smart contracts. DAO contracts oversee the election of delegates and witnesses by community voting. Dividend sharing of the DEX revenue is governed by DAC.
That's just a simple summary. Get all the details in their white paper.
EOSiNT tokens by EOSInterest
EOSInterest tokens, ticker EOSiNT, are tokens on the EOSIO blockchain. And the total supply is 10,000,000 (10 million) EOSiNT tokens.
It's a utility token. And with it, EOSiNT token holders can:
Trade their tokens as a trading pair in the DEX, and pay trade commissions in EOSiNT token
Trade their cryptocurrency in the DEX and receive a refund of 50% of trading fee in EOSiNT at the end of every 24 hour trading period
Claim 75% of the monthly earnings of the dual utility platform by staking their EOSiNT tokens in the DEX during the corresponding trading month
How to get the free EOSiNT tokens?
The airdrop campaign is live and running until the end of the year. And their team has allocated a total of 300,000 EOSiNT for the first 10,000 participants. Meaning: There won't be free tokens for everyone, so you should claim yours asap – don't worry it's quite simple. And here's how:
Sign up to their website here
Join their Telegram channel
Join their Telegram group
Follow them on Twitter

Retweet their pinned tweet and any other tweet in their tweeter feed (2 retweets total)

Follow them on Medium, clap, and retweet their stories (optional) to get 10 free EOSiNT tokens
Fill out their airdrop form
Share your unique link and receive

5% of the ICO purchase of all your referrals
5% of the earnings of all your referrals for the next 12 months
DYOR. NEVER share your private keys! And NEVER use an exchange wallet address! Instead, we recommend using
Trezor wallet
.
Legal Disclaimer
: This website does not offer investment advice. The author is an amateur investor and the information found here is for informational, entertainment, or educational purposes. As a result, it should not be construed as personal investment advice. While the information provided is considered accurate, it may include errors or inaccuracies. This website and the author can't be held responsible for any action you take as a result of what you have read here.
Learn more
.
DON'T MISS A SINGLE AIRDROP

EOSInterest Airdrop
EOSInterest is a decentralized cryptocurrency exchange that shares dividends with its users on a monthly basis. And they're giving away free EOSiNT tokens.
My opinion on EOSInterest Airdrop
We've reviewed hundreds of cryptocurrency airdrops since this airdrop alert site is live. And here's our take on this crypto airdrop. With a score below 5, you may never receive your tokens. But if it's above 8, you'll definitely get your free cryptocoins!