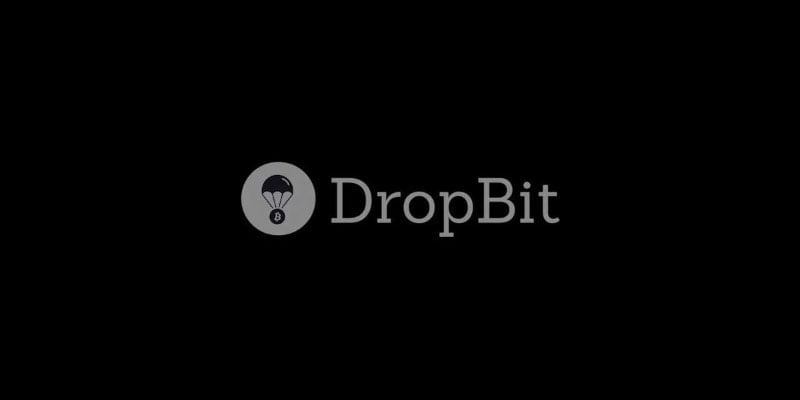 What is DropBit?
DropBit is a wallet app for Android and iOS. And it's one of the cheapest and easiest ways to send and receive free bitcoin! It's cheap and fast because it's using Bech32 SegWit addresses (bc1 addresses). And it's easy because you can send people bitcoin just with their Twitter handle or their phone number.
I discovered it on Twitter a couple of months ago and I like how convenient it is. You can verify your account via Twitter or phone in 2 minutes. And you can even buy bitcoin directly from the app – no need to go to an exchange.
They say it's like Venmo for bitcoin and they're right!
In terms of privacy and security, it's not like Trezor hardware wallet – of course. But it's still safe and secure. Always remember "Not your key, not your coins." And with DropBit, the keys are YOURS. You own them, you keep them and you control them entirely.
You can download the app here.
DropBit bitcoin referral program
While this site promotes airdrop, this one is more like a referral campaign. But you get to receive the equivalent of 1 USD in bitcoin without spending a dime! So it counts.
The campaign runs until February 2020 – don't miss it!
Why do they send BTC to their new users? They mentioned two main reasons:
They want to increase the global adoption of bitcoin. And giving people a wallet with funds is one of the best ways to do that. It will have an impact on the number of users and – maybe – on the price of BTC itself!
They prefer investing in their users and not in their marketing campaigns. Instead of paying for ads on Google or Facebook, they count on their users to convert new users. And it makes a lot of sense.
How to get free satoshi with DropBit?
First of all, you need to download the app. Click on this link from your smartphone to visit your store. And install the app.
Then verify your account, either by using your phone number or your Twitter handle. Simply follow the on-screen instructions.
Now, you should fund your wallet. But we will send you 1 satoshi. So you don't even have to spend anything. We take care of it for you!
Option 1 [recommended]: Using Lightning Network (LN)
In order to receive bitcoin, copy your Twitter handle into our Google Form.
Option 2: Using Bitcoin (slower and more expensive)
In order to receive bitcoins, you should provide your public address. To do so, you need to tap the "receive" button in the app. There you will see a QR code and you can copy your address by tapping on it – it starts with "BC1."
And copy your address into our Google Form.
We will then proceed to send you 1 sat. And DropBit will fund your account with 1 USD!
If you want more bitcoin, do the same with your friends and family members! For each new verified wallet that is funded, both of you will receive 1 USD.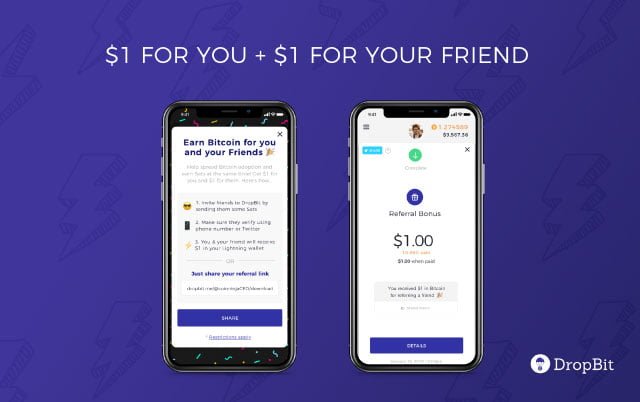 DYOR. NEVER share your private keys! And NEVER use an exchange wallet address! Instead, we recommend using
Trezor wallet
.
Legal Disclaimer
: This website does not offer investment advice. The author is an amateur investor and the information found here is for informational, entertainment, or educational purposes. As a result, it should not be construed as personal investment advice. While the information provided is considered accurate, it may include errors or inaccuracies. This website and the author can't be held responsible for any action you take as a result of what you have read here.
Learn more
.
DON'T MISS A SINGLE AIRDROP

DropBit airdrop
We've reviewed hundreds of cryptocurrency airdrops since this airdrop alert site is live. And here's our take on this crypto airdrop. With a score below 5, you may never receive your tokens. But if it's above 8, you'll definitely get your free cryptocoins!