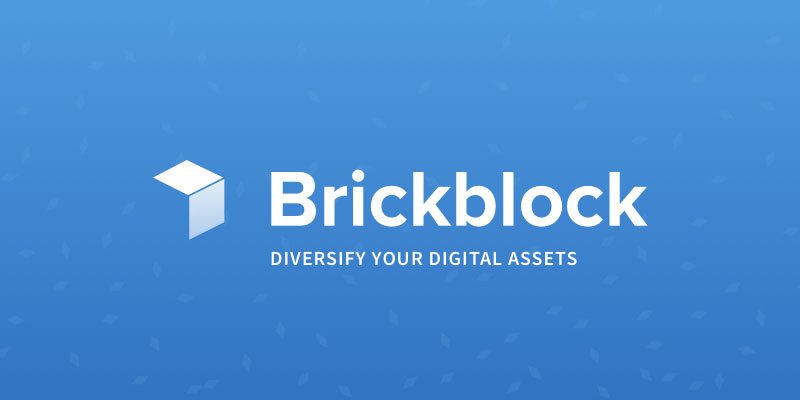 What is Brickblock?
John introduced this project to me. And he told me about the Brickblock airdrop where people can get free BBK tokens. So I've decided to share it with you. Brickblock as a company is predicated on making the world of Real Estate investment more efficient and accessible through the effective use of blockchain technology. And their team is building a brand new solution to allow users to invest in exchange-traded funds (ETFs), real estate funds (REFs), passive coin-traded funds (CTFs) and active coin managed funds (CMFs).
Anyway, their assessment of the crypto-economy is that it's too volatile. And you can easily lose this month the gains you've made last month… So their idea is to give crypto-investors a way to diversify their portfolio, to mitigate the risks. But not a diversification on digital currencies. No, a real diversification: Across multiple asset classes.
While I don't have time to invest in trading right now, this looks like a promising project. And I'd recommend you to learn more about it on their white paper. This is the general one. And you can find a more technical one on their site!
BBK tokens by Brickblock
The team developed an ERC20 utility token that allows users on their platform to invest in real estate globally: Brickblock token (ticker BBK). And the maximum token supply is 320,000,000 BBK tokens.
When you register on their platform, you'll be able to invest your crypto portfolios in real-world assets. Thus you'll simultaneously be able to hedge from cryptos' notorious volatility as well as tap into a global real estate market that was previously inaccessible.
While BBK is a utility token, it will be tradeable on exchanges.
How to get the free BBK tokens?
Their crypto-airdrop is about generating positive awareness for their project as well as driving interaction/engagement for their platform. So you'll have the possibility to invite, follow promote or create to get free BBK tokens. But let's start with the beginning: You need to click here. And click on Join and Earn. Then click on the Register tab, where you'll find the list of services you can use to sign up. Choose your favorite web service and follow the on-screen instructions.
If you've chosen to Sign up with email, fill in a valid email address and password. And then click on Register. You'll get an email to confirm your address. Click on the link and you can now log in to the platform. And to finish your registration, you'll have to complete their form – or you won't be able to earn (I tried…).
So you need to input your first name, last name, nickname, and birth date. While there's no KYC yet, I'd recommend using your true identity, just in case. Then select the country where you live, and input an ethereum wallet address. Finally, tick all the checkboxes and click on Submit.
Now you can start earning tokens! Browse the 4 tabs invite, follow promote and create to select the actions you're ready to complete to get free BBK tokens.
Last, but not least, you should follow Brickblock on social media outlets and post about Brickblock (at least once). And you must stay followed after their cryptocurrency airdrop closes, as well. While I wouldn't do it, you must not post negatively or spam their social media…
DYOR. NEVER share your private keys! And NEVER use an exchange wallet address! Instead, we recommend using
Trezor wallet
.
Legal Disclaimer
: This website does not offer investment advice. The author is an amateur investor and the information found here is for informational, entertainment, or educational purposes. As a result, it should not be construed as personal investment advice. While the information provided is considered accurate, it may include errors or inaccuracies. This website and the author can't be held responsible for any action you take as a result of what you have read here.
Learn more
.
DON'T MISS A SINGLE AIRDROP

Brickblock Airdrop
Brickblock aims at minimizing the risks for crypto-investors, by allowing them to invest in multiple assets classes. The main one being real estate. The project is giving away free BBK tokens. Claim yours before it's too late!
My opinion on Brickblock Airdrop
We've reviewed hundreds of cryptocurrency airdrops since this airdrop alert site is live. And here's our take on this crypto airdrop. With a score below 5, you may never receive your tokens. But if it's above 8, you'll definitely get your free cryptocoins!