What is Brave?
Let's be honest: Brave is so much more than a web browser. It's a complete ecosystem that is trying to redefine how the Internet works. The man behind the company is no other than Brendan EICH, the creator of JavaScript and the co-founder of Mozilla and Firefox. And his team is composed of privacy-focused people.
Their mission is to "fix the web," as stated on their website.
Because the web as we know it is far from perfect. Think about the tons of ads, pop-ups, and notifications you watch every single day. Not to mention all the tracking systems behind it that make it possible. First, these are annoying. Second, they represent a threat to your online privacy: Everything you're doing is monitored.
But it doesn't have to be that way, as you can see in the video below:
Now, you have an opportunity, a choice to make. And you can decide to have a much better browsing experience by switching to this software! Their browser is using Chromium, a free and open-source web browser developed by Google. It's like a lightweight version of the popular Chrome that developers can customize.
When you install Brave browser, you can expect to:
Browse the web up to 8 times faster than Safari and Chrome
Save money by blocking the download of unwanted content (ads and trackers)
Block advertisements and their trackers
Earn BAT tokens for your attention (they're rewards)
Protect your online privacy thanks to their privacy features
Finally, you can surf the web the way you want – everything's the same but better!
BAT tokens by Brave
The ecosystem is using the Basic Attention Token (BAT), an ERC20 token built on the ethereum blockchain. While you can find all the details in their whitepaper, let me simplify things for you. This utility token allows the implementation of blockchain digital advertising. And it creates new interactions between users (like you), publishers (like me), and advertisers.
Users need to install the browser to view ads and earn BAT and tip publishers for their content – they can also purchase and stake Basic Attention Tokens…
Publishers need to register for a creator's account and create channels for their websites to receive tips (coinairdrops.com is a creator)
Advertisers use BATs to advertise and achieve better ROI thanks to better targeting and reduced fraud
Also, users are protected at all times by the "anonymity shield." It means that neither the publishers nor the advertisers can access their personal data.
How to earn BAT tokens?
As of today, their infrastructure is up and running. And you can start earning free BAT tokens on a monthly basis, by downloading their browser. It's available on most platforms: Windows, macOS, Linux, Android, and iOS (iPhone). And you can even opt for their nightly build to try out new features. But these beta builds may not be stable – so I'd avoid them if you're a regular user.
To get started, you need to download and install the internet browser. And you should then import your data from your current browser (history, bookmarks, passwords, etc.). So, you will not need to set up anything – and you'll save time.
But you're not done yet: You need to join the Brave Rewards program to get free BAT. While the program is only available in the United States, the United Kingdom, France, and Germany, there's a trick on how to earn BAT with Brave anywhere. And all you have to do is to change the regional settings of your device to one of these countries. I'd recommend selecting US settings to maximize your earnings.
Once you're done, simply go to the Brave Rewards settings and opt-in. Browse the web normally and visit the Brave Rewards tab once a month to claim your payouts!
Thank you for supporting our site!
What if I don't get free BAT tokens?
We've received a couple of emails from users telling us: "How to earn bat tokens? I'm not actually seeing any ads." So here's a tutorial if you want to set up everything correctly on Windows.
Make sure both Brave Rewards and Ads are enabled
Go to the settings of the browser and select the Brave Rewards tab. And toggle the 2 switches to the right. So that it looks like this: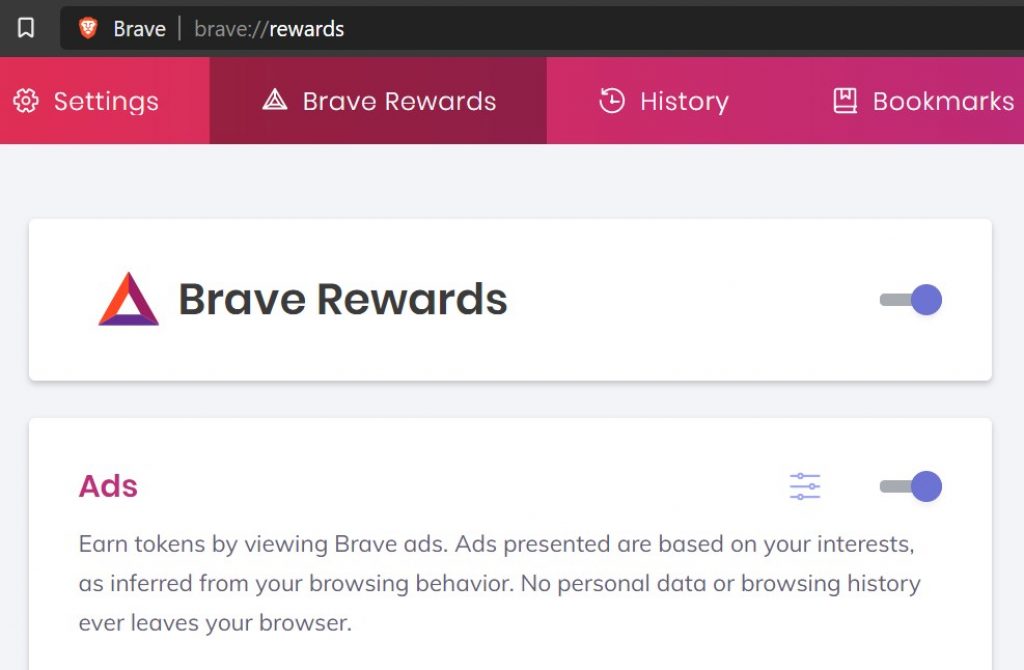 And that may do the trick for you. If not, then:
Adjust your Operating System settings and use a VPN
Because native ads are not available everywhere yet, you may not be eligible. But you can edit the regional settings of your device and use a VPN to spoof your location. That way, you can appear in a country where the ads are available.
So, there are 3 things to adjust. And they have to be consistent. You need to change your:
OS Region
OS Regional format
IP address
And they have to match the same region – the one you want to be located in. I've set up mine to "United States" in Settings > Time & Language > Region: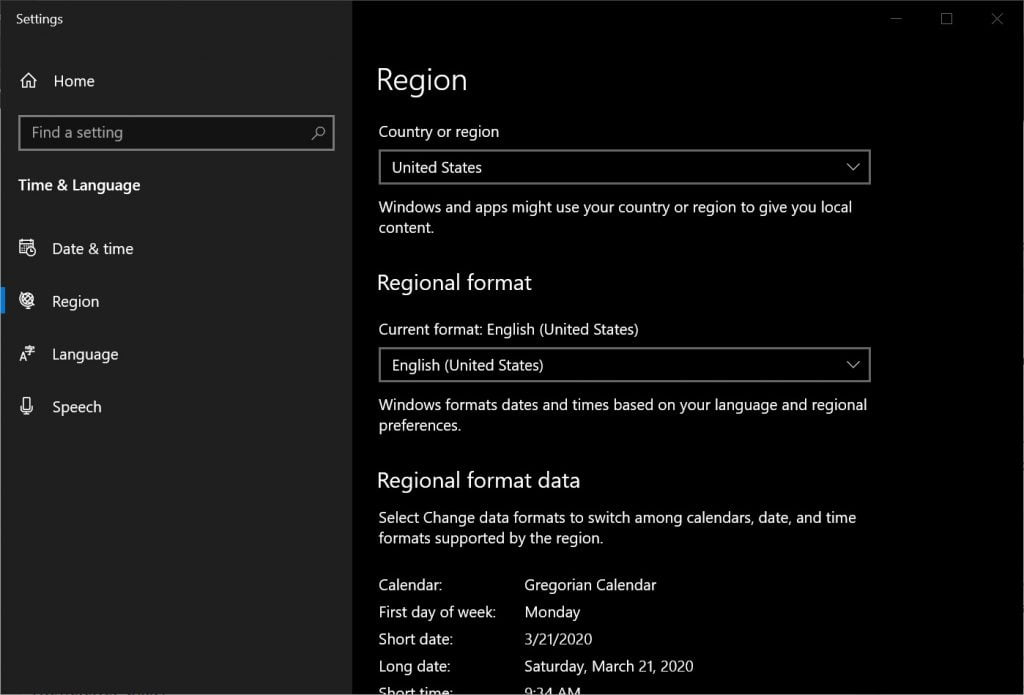 Finally, you need an IP address in the USA. I've been using Windscribe for years and highly recommend it. Simply subscribe, install the client, select a server in the US and connect.
If you still don't earn free BAT tokens, then:
Adjust your OS notification settings
Now that everything's in order for Brave, maybe your OS is blocking the notifications. So, you need to go to Settings > System > Notifications & actions and make sure that you can get notifications from:
Apps and other senders
Brave
Simply switch both toggles to the right, like on this screenshot: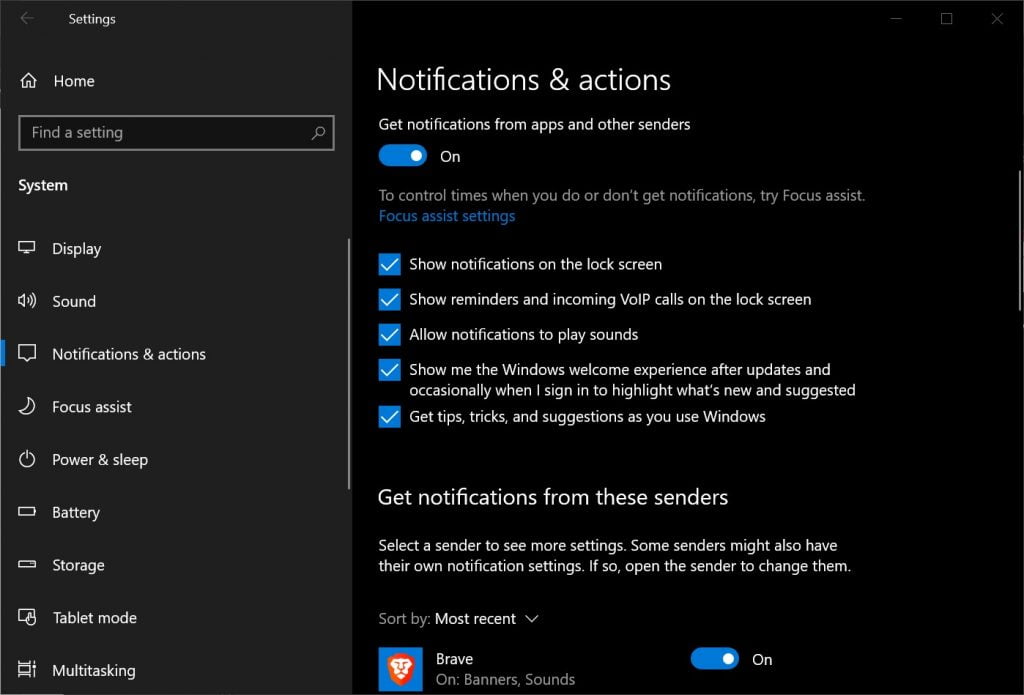 If you can't see Brave in the list of senders, the notifications may not come through. So, you can visit this site to test your browser. And then:
Click on the Authorize button
Allow the notifications in the pop-up, by clicking on Allow
Click on the Show button
And you should get a notification. Brave should also be displayed in the list of senders!
This is how to earn BAT on Brave. But if it still doesn't work, you can also:
Adjust the User Account Settings
After all this, it's the last ace in my hand… And if it doesn't work, you'll need to check the community forums. Anyway, go to the Settings and type in "user account" then select Change User Account Settings.
In the new window, drop the toggle to the bottom: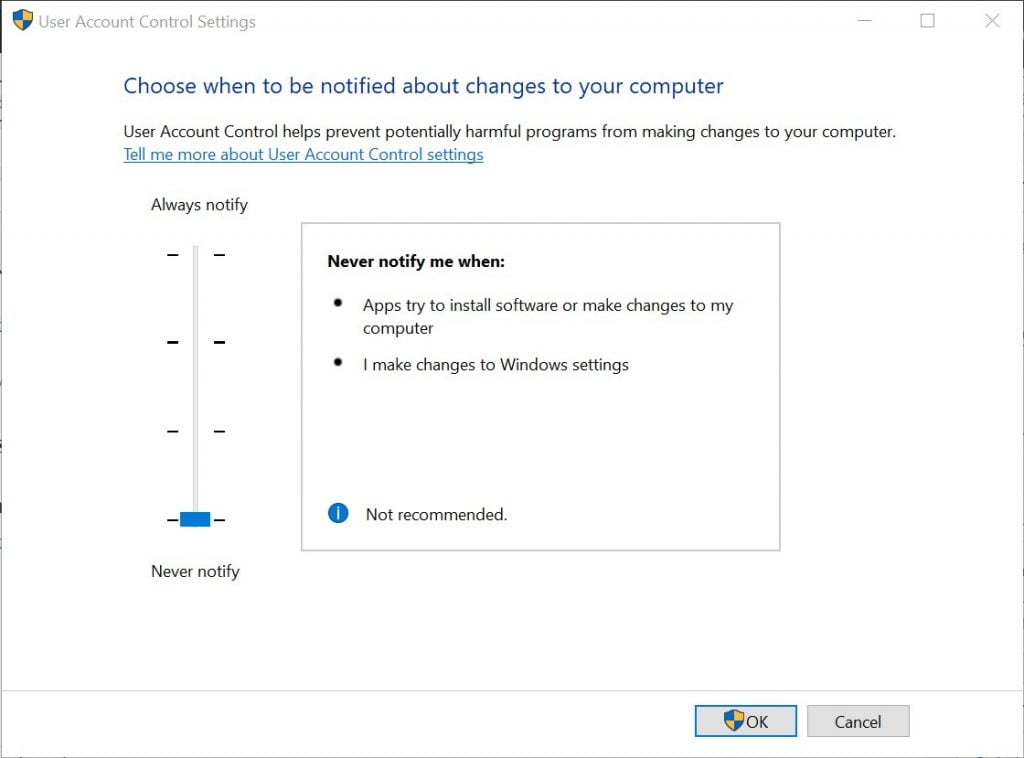 While it's not recommended, it's the only way I found to display the notifications and earn BAT tokens after all else failed.
DYOR. NEVER share your private keys! And NEVER use an exchange wallet address! Instead, we recommend using
Trezor wallet
.
Legal Disclaimer
: This website does not offer investment advice. The author is an amateur investor and the information found here is for informational, entertainment, or educational purposes. As a result, it should not be construed as personal investment advice. While the information provided is considered accurate, it may include errors or inaccuracies. This website and the author can't be held responsible for any action you take as a result of what you have read here.
Learn more
.
DON'T MISS A SINGLE AIRDROP

Brave Airdrop
We've reviewed hundreds of cryptocurrency airdrops since this airdrop alert site is live. And here's our take on this crypto airdrop. With a score below 5, you may never receive your tokens. But if it's above 8, you'll definitely get your free cryptocoins!